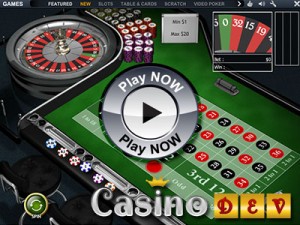 Roulette is one of the most popular casino games which is in existence ever since we saw the casino destinations. Even today, you can't figure out even a single money spinning zone where roulette is not available and that is its recognition around the world. Roulette is basically a land casino game which is now available in online mode too; many land casino followers still love to play this game in brick and mortar casinos for enjoying real time excitement, while due to the latest technology, online casinos have also made it possible to enjoy alike fun of Roulette playing online by including multi players mode where there is also an optional live dealer which does all the jobs for you. Playtech, being one of the reputed and trustworthy software developers, has designed many online clones of land casino games and European Roulette is one of them which has all the features you often want from a roulette variant. One of the highlighted features of Playtech powered European Roulette is its re-bet feature which is not available with other forms of the game.
How to Play European Roulette
Playing a roulette game has always been easy despite there are multiple options to bet upon. The only thing a player needs to guess is where rolling ball will eventually land, and if he could guess it correctly; he can win as high as 36 times of his wager. Moreover, even if he is skeptical to guess a single number, he can also choose multiple numbers like all odd numbers, all red numbers, all slots from 1 to 12, and many more. The complete betting choices are clearly visible on designated area of the table; hence it is rather easy to choose your lucky numbers if you are online rather when you are in a land casino. A player also has the option to place multiple bets to enhance his winning chances.
Before playing; he needs to choose the chips available and then pick the spots he would like to place his bet upon. Then, it is time to hit the spin and roulette wheel starts rolling. You can keep your fingers crossed and hope ball will stop on your wagered slots!
There are various roulette forms available and European Roulette is most popular among all coz it has one reduced slot than American Roulette. One lesser slot means almost half house advantage which of course is in favor of players.