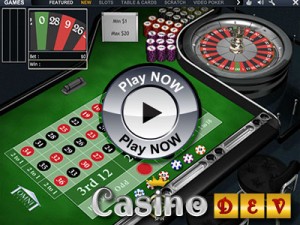 It is a pompously fact for Roulette that no other casino game has ever been so popular and globally recognized as Roulette has been. Perhaps, every casino scene in a movie is incomplete without a glimpse of Roulette's spinning wheel. Playtech has many variants for this popular game and American Roulette is one of them with classified features of it. Being based on American roulette format, there is an additional '00' which increases house advantage, still this game is widely played in US casinos: online and offline both. Moreover, online American roulette powered by Playtech also has many features that make this game almost parallel to a roulette game in any land casino, like a female voice that tells you everything about your wagers and winnings; however, you won't get sexy girls on the floor online! Anyways, the variant is clearly a winner with its entertaining add-ons.
Playing American Roulette
Like any other casino game, this game also starts with choosing chips of required denominations; perhaps, there are available chips on the screen having values from one cent to ten dollars. Choose the chips you want to wager, like if you want to play a two dollars bet, click one dollar chip twice. However, be noted that game accepts bets ranging from $1 to $20, so make you selection accordingly else you will be popped up with a warning. Next step is to select the betting slots, there is a broad betting table containing hosts of options to choose from. Click any of your liking slots and your chip will be moved to your wagered slots. Last step is to click on Spin and wheel will start spinning in front of you. There is also a close up view of the wheel so you can see if ball stops on your number.
The game looks so real life like that background sound helps you recalling any land casino along with a female voice that alerts you with your placed options, and if you win a prize, a pleasant sound with a sweet voice congratulates you. So, irrespective of what you like about online casino industry or not, Roulette is certainly a game which has always been in your wish list and makes your feet rolling when you see it in a commercial or movie. Moreover, if you are lucky, you can win as high as 35 times of your wagered money, isn't that exciting!