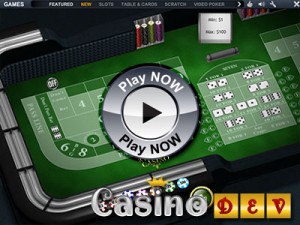 Since, Playtech is supposed to have every popular casino game under its portfolio then how it is possible it would miss out one of the most exaggerated table games: Craps. Playtech has an online craps variant based on classic table craps, which was introduced in 2010 with a promise to offer something extra then other providers. Since, it is powered by Playtech, no US player is allowed to play real money based Craps at a Playtech casino; through everyone is welcomed to play a demo version and experience the beauty of ever classic casino game in its newest avatar. Before playing, let's understand some of the basics of Playtech craps, it can be played with a wager ranging from 1 to 100 coins which are available at different values from 0.50 to 100 dollars, however, default coin's value is just 2 dollars and there is no jackpot to be precise. Before going further, we need to understand the betting types in craps: there are many possible bets but the most popular one is a pass line bet coz of its lowest house advantage; hence without jingling around; you should always place your bet as a pass line bet on the marked area of crap table.
How to Play Craps
Craps is a dice game hence playing it is nothing more than throwing a pair of dice and recording the 'total' of dice numbers. Before starting of the game, a player has to choose the chips from the available chips on the craps table, and then click on the big Roll button available on the bottom and record the total of dices' outcome; there are few possibilities now:
If there is a total of 7 or 11, player wins the bet.
If there is a total of. 2, 3, or 12, player loses the game.
However, if there is 4,5,6,8,9, or 10, game enters into the next stage called Enter the Point round where player has to again roll the dice and keep rolling until he gets the earlier number again or a seven.
If he gets a seven before getting the same number again, he loses the game; however, if he gets the same number again he wins the game.
This is a basic way to play Craps, though experienced players also make use of other bets available in craps, like Don't Pass, Come, Don't Come, or even a Free Odds bet. This is an advance mode of craps which can only be played if you could grasp some basic knowledge of placing pass line bets.