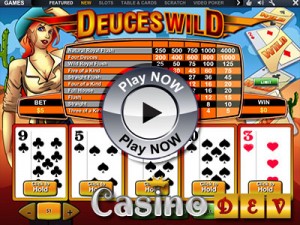 Deuces Wild Video Poker is a popular classic video poker variant developed by Playtech's power gaming solutions. This poker variant is based on five cards drawn poker, and as its name suggests, deuce serves as the wild card for getting a winning hand ranking. It comes with two playing forms: one is a one hand Deuces Wild while other is four hands Deuces Wild. Both are basically same except number of hands involved. Pay through is also kept within the reach of most of casino goers, perhaps a player can play with as low as five cents to as high as five dollars. Since, it is a five-coin based video poker game; maximum possible wagering with its one hand variant is $25 which is not big enough for anyone. Being biased towards mid-ranged players, this game is not very popular among high rollers, though it has significant luring features to attract low as well mid rollers. Deuces Wild Video Poker also has a wild royal flush hand ranking which is a royal flush ranking constructed with the use of one or more wild deuce cards; this ranking pays third highest prize of the game. Moreover, four deuces hand ranking pays the second highest prize money and natural royal flush pays the highest 800 coins payout if you are playing with a three coins bet.
How to Play Deuces Wild Video Poker
Like any other video poker game, this game also has very down-to-earth gameplay that is understandable to everyone – even to novices. The first step is of course to choose the coin's value from bottom left corner, and then you need to choose how many coins you want to play with. Number of coins can be selected by clicking Bet One button multiple times. There is also a Bet Max option which automatically selects a five coins' bet for you valued $25. Last step is to hit the Deal button, and then machine deals you five face up cards. These cards have click to hold mark on them, and you have an option to either accept them or ask for a replacement. You can hold them by clicking the hold button or ask for a replacement by clicking Deal button again.
When you have made your choices, your final hand ranking is revealed and if there is a match with the paytable, you win the corresponding amount. This game actually has nothing so special rather being a classic video poker variant suitable for beginners. So, if you are about to start your casino journey, go for it!