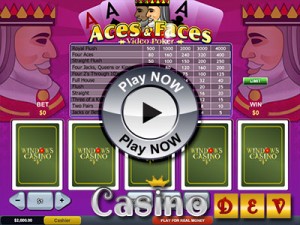 Aces and Faces Video Poker is a crisp and sophisticated video poker game powered by Playtech. This game is based on five cards drawn poker and is found in every online casino that runs on Playtech's gaming solutions. Look and feel of the game is very professional from the word go; home screen neatly shows all the options topped by its paytable surrounded by two king faces. Bottom screen is filled with playing options and five playing cards. With its down to earth gameplay and descent prize multiplier; this is more suited for casino newbies who have just started their online gambling and want to try their hands in a poker variant. Moreover, its post winning round further enhances its excitement by offering a double or half double prize options by playing guess a card round. Overall, Aces and Faces has eleven winning hand rankings including a Jacks or better which pays an equal amount of the wagers on getting corresponding hand ranking. Moreover, the noticeable difference with game is, here, four Aces are considered higher in value than a straight flush, and similarly, a hand ranking having four Jacks, Queen, or Kings is taken as worthy than other fours from 2's to 10's.
Aces and Faces Gameplay
As told, Aces and Faces Video Poker has very basic gameplay that is easily understandable to everyone despite his casino experience. The only choice a player is to make is selecting number of coins along with their values. Value can be selected by clicking positive and negative signs and number of coins can be selected by clicking Bet One button. Clicking this button for multiple times increase the coin numbers. There is also a Bet Max button which automatically chooses five coins at highest values so player has just to click a single button to bet at max. Once everything is done, click on the Deal; machine will then deal you five face up cards bearing Click to Hold. According to your playing strategy, you can click on a card to retain it or ask for a replacement by hitting the Deal button again.
Once a round is finished and you have a hit, a popup appears asking you for a post winning round where you can either Double or Half Double your winnings. For easy understanding, popup has details about how much you can win choosing playing a post winning round. If a player wants to play it, next screen will ask to guess a card and either player doubles his money or loses everything.