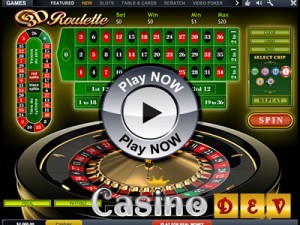 Playtech is known for creating some of brilliant casino games, and 3D Roulette is one of the members of its premium franchise of casino games. Being a typical roulette game, it is played with similar rules and regulations as found with any other roulette game, though the difference lies in its user interface, stunning graphics, and a real life like spinning wheel right in the center of the screen, unlike other online roulette games where wheel is normally situated at the corner. The visual perception is crystal clear coz of its three dimensional graphics that reminds of a real land casino roulette table, however, even better thanks to the state of the art graphics Playtech has used across its 3D roulette variant. The home screen shows a spinning wheel at the center; perhaps it occupies the largest portion of the screen making it a true roulette game. Right on the top of wheel, there are betting options, as usual, there are all the alternatives to choose a combination of numbers, color, or even a single number bet. Top right section has the chips for your wagering amount along with Clear, Undo, and Redo buttons with their usual meanings.
Playing Playtech 3D Roulette
Roulette is a world known game, perhaps there would not be even a single casino goer who is not familiar with its gameplay. The initial steps are identical in all roulette variants: you choose the chips, select your slots, and hit the spin. Wheel then starts spinning and stops giving you the landing slot, and if you have placed your bet on it; you won the money. However, in 3D roulette powered by Playtech, there is a unique betting feature not found anywhere else and that is its cylindrical wagering table situated on the top left corner of the screen. This table is unique in its approach coz here a player can choose five random numbers to bet upon, these numbers are not found in its regular betting table available in the top center.
These additional betting options make this game even more interesting for players who believe in superstition and want to bet on five random numbers.
A Real Life like Experience
Imagine playing 3D roulette online on your big computer screen; you can't differentiate the playing experience you get online; perhaps even better due to the presence of stunning art. With betting chips valued as low as one cent to as high as ten dollars; this game is within the reach of every casino player. So, why don't you feel the multi-dimensional fun of roulette playing online?